SEX is the word that all of us like to think about but all the enjoyment ends once we hook up our focus to the cleaning tasks needed once the fun ends. And that's fine – no one likes to associate stain/lube removers with laundry, but that doesn't mean a little tidying up isn't necessary after a good time. After a night of fun, cleaning (hygiene) is a must for you and your partner's intimate parts and of the lube-stained sheets too.
Below are the main topics that this content piece intends to cover:
What Is Lube?
Lube is a generic name for lubricants that are used to make sexual action easier. Lube can add an extra level of sensation during penetration; provide different emotions like cooling, warming, or texture, and raise moisture levels, all of which are designed to promote sexual enjoyment and comfort during sex.
In short personal (silicone) lubricants, sometimes known as lube, can be a wonderful way to add a little excitement to bedroom activity for many couples.
Why Use Lube?
Lubrication, whether natural or supplemental, is an important aspect of sexual pleasure, as it helps to avoid injuries and extend activity time. This is especially important during longer sessions, when natural lubricant is insufficient, or any action that requires extra wetness.
Depending on personal preferences, lube can be used only sometimes, during specific sex acts, or at all times. Women who are experiencing a scarcity of natural lubrication, for example, may choose to use lube during these times, whilst some people prefer to have better lubrication at all times. Lubricant is also crucial when using condoms for lengthy periods of time. Since condoms can dry up and lose their elasticity after longer usage – or anal sex, where no natural lubricant is present, can benefit from the lube.
After Sex Cleaning
It may be tempting to hit the sack once the fun is over, but it's critical to deal with the mess. Most sexual experiences leave bodily fluids or lubrication on bedding, clothing, and one another, all of which must be cleaned up at some point.
Removing silicone lube from the skin on your ass and legs and maintaining hygiene can be a tough part.  Awe don't fret, The Lube Club has your back!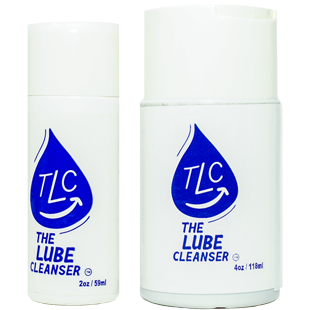 The Lube Cleanser 2 oz & 4 Oz
Effective for silicon, water, or oil-based lubes – The Lube Cleanser can handle all the lubricants
The Lube Cleanser is a liquid detergent that can be directly applied to sheets, towels, and your skin (on your ass and legs) to safely remove silicone lube & sexy fluids and leave your skin feeling fresh.
We use a proprietary formula packed with natural herbal extracts, no parabens or mineral oils. It's hypoallergenic, safe for sensitive skin, furniture, bedding, clothes, wood, marble, and tile surfaces. Anywhere you might get lube and splooge, you can safely use The Lube Cleanser. How to remove lube? will not be a question anymore with the lube cleanser.
When it comes to keeping your sheets clean and bacteria-free or avoiding humiliating and irreversible semen stains on your favorite clothing, proper cleaning techniques are essential. There's a lot to know about cleaning best practices when it comes to everything from water-based lubricant to the secretions left behind after a little loving'.
We also offer The Lube Cleanser Cloth – a single-use 5"x7" wipes dripping with The Lube Cleanser. These cloth wipes are great for when you just want to wipe up the mess and toss it into the garbage.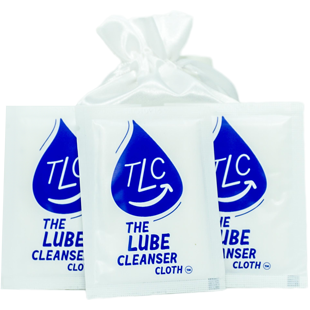 The Lube cleanser cloth
The Lube Cleanser Wipes make the job easy and leaves you feeling fresh and always ready
Effective for water, silicone, or oil-based lubes – safe for your sheets, skin, hardwood floors, or marble countertops – The Lube Cleanser is ready and able to clean lubricants wherever they end up, no matter where you and your partner get it on. The clean-up process has become easier and you don't have to think about how to remove silicone from sheets, remove silicone from the floor, and remove silicone from furniture, etc.
As gay men who have gone through many sheets thanks to lube stains, many of us at The Lube Club dreamed of a product that could clean silicone lubricants and save our bedding. Lube stains are annoying, you either have to buy new sheets $$$ or signal your sexual behavior to everyone who comes into the bedroom. Expensive or awkward, now The Lube Cleanser can help you remove silicone lube and save the sheets.
Multiple partners in one evening!!
The Lube Cleanser Cloth is the modern version of washing your junk off in the sink. Keep at home lubricant remover and easily, quickly able to remove lube or anything else that comes with sex off your genitals, leaving your skin feeling, smelling, and looking fresh and clean for the next person you want to share yourself with.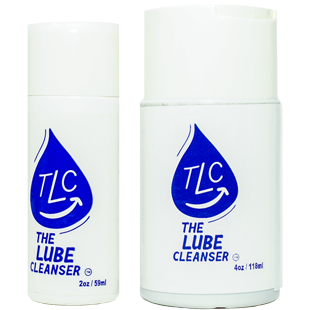 The Lube Cleanser 2 oz & 4 Oz
Effective for silicon, water, or oil-based lubes – The Lube Cleanser can handle all the lubricants
So what are you waiting for?
Be always ready for your next orgasm.
Sex, and post-sex cleanup, are a part of life. You can keep living your best, hygienic, and stain-free life both in and out of the sheets by following the right techniques for dealing with lubrication and bodily fluids.
The Lube Club wants to help you have the best sex you can have, as often as you want. That's why we designed The Lube Cleanser with you in mind. On the go or at home, with your special someone or the trick you just met, The Lube Cleanser is always ready to clean up the mess and keep you feeling fresh and your skin hygienic.